Description
USPlabs Super Cissus contains a unique herbal blend that promotes healthy muscles and bones. Super Cissus supports strong and healthy joints, ligaments, tendons, and cartilage. It is engineered with vitamins, minerals, and plant sterol compounds to deliver additional nutrients to the bones, muscles, joints, and tendons so you can perform at optimal levels. The main ingredient, cissus quadrangularis, has been a primary ingredient of traditional medicine for centuries. It is very high in vitamin c, which is an antioxidant nutrient that has been shown to reduce inflammation. Cissus quadrangularis has been shown to accelerate post-fracture bone regeneration and helps athletes with struggling joint pain. Many health care experts have compared the pain-relieving effects of cissus quadrangularis to aspirin.
Highlights
Promotes bone, muscle, and tendon health
Increases joint flexibility
Provides nutrients for healthy joints
Stimulant free
Shellfish free
Powerful Formula
*Amount Per Serving
1600mg Cissus Quadrangularis (Stem) Extract
+Much More
Supplement Facts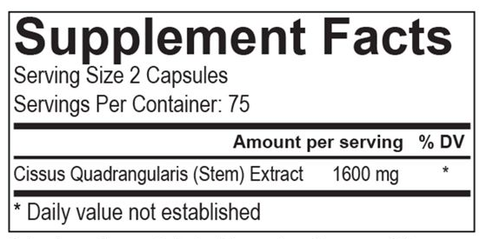 Suggested Use
Take 2 capsules with breakfast and dinner
Payment & Security
Payment methods
Your payment information is processed securely. We do not store credit card details nor have access to your credit card information.
---
Security