Description
Our Bergamot supplement is organic, citrus-based, and rich in several phenolic compounds. These potent compounds give it curative properties, such as supporting healthy blood pressure levels already within the normal range.
In addition, this supplement is useful in helping maintain already-healthy cholesterol levels and is commonly used for its antioxidant/anti-inflammatory properties.
Our Bergamot supplement also contains the patented ingredients AstraGin® and BioPerine® to aid absorption, uptake, and overall effectiveness.
Highlights
Promote a healthy cholesterol profile
Support arterial health
Promote a healthy balance between good and bad cholesterol
Powerful Formula
*Amount Per Serving
1g Bergamot Orange Extract
50mg AstraGin®
10mg BioPerine®
+Much More
Supplement Facts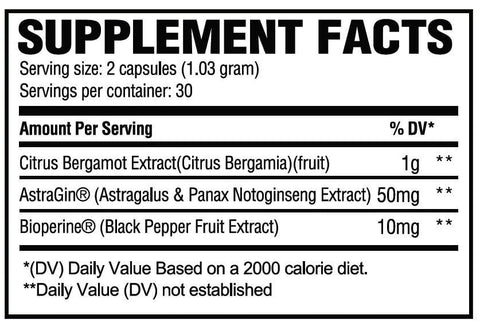 Suggested Use
As a dietary supplement, take two (2) veggie capsules with 8-12 fl oz of water.
Payment & Security
Payment methods
Your payment information is processed securely. We do not store credit card details nor have access to your credit card information.
---
Security