Description
NOXygen® is a stimulant-free, unflavored supplement additive that will complement any pre workout or intra-workout beverage while supporting expanded strength, endurance and hydration. NOXygen® liquicaps are the ONLY liquid nitrate available, giving you a pump that will hit you faster than ever. It's stimulant and dye free, so add it into your daily regimen on non-training or cardio days as well. NOXygen® truly is an "any exercise, anytime" performance accelerant.
NOXygen® Liquid Caps - a fast acting nitric oxide booster that aids in vasodilation in order to help transport nutrients to your muscles, giving them everything they need to grow and deliver a ridiculous pump in the gym.
Highlights
Deliver Oxygen
Build Endurance
Increase Muscular Energy
Powerful Formula
*Amount Per Serving
1.6g Glycerol
500mg Sodium Nitrate (as NO3-T®)
+Much More
Supplement Facts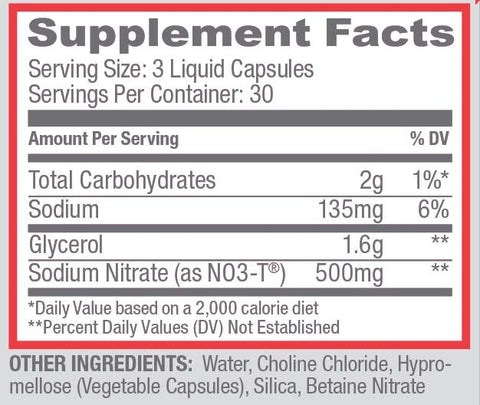 Suggested Use
Take 1 serving (3 liquid capsules) 15 minutes prior to exercise.
Add pump to your preworkout with NOXYGEN®
Payment & Security
Payment methods
Your payment information is processed securely. We do not store credit card details nor have access to your credit card information.
---
Security