Description
D-Pol was specifically formulated to help raise your natural free testosterone levels through a clinically proven combination of amino acids and vitamins. 3.12g of D-Aspartic Acid (DAA) works in conjunction with the powerhouses Vitamin D, NO3-T and B vitamins to provide a natural, gradual increase in free testosterone along with an increase luteinizing hormone(which helps to improve your reproductive system functionality). Additionally, D-Pol helps to increase nitric oxide production causing a prolonged spike in blood and oxygen delivery. D-Pol is also known to create an oxygen sparing environment by increasing aerobic efficiency and to increase ATP production generating a greater power output.
D-Pol is the healthy, natural way to help your body to produce the hormones that it needs for better sex drive, stronger muscles, increased fat burning capabilities and the other myriad of benefits that come from balanced testosterone levels.
Highlights
Burn Fat
Build Muscle
Improve Libido
Improve Mood
Improve Energy
Powerful Formula
*Amount Per Serving
4000IU Vitamin D3
2mg Vitamin B6
400mcg Folic Acid
6mcg Vitamin B12
130mg Sodium
3.12g D-Aspartic Acid (DAA)
+Much More
Supplement Facts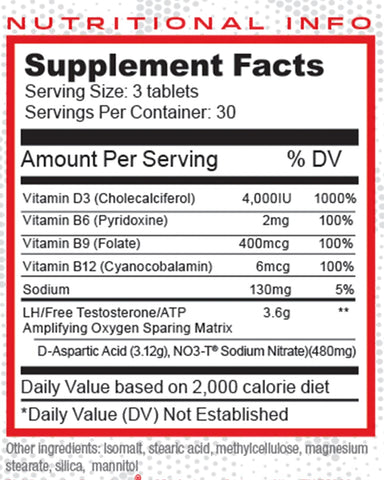 Suggested Use
Take 1 serving of D-Pol first thing in the morning with breakfast on both exercise and non-exercise day. OR, take 1 serving of D-Pol pre-workout with a snack.
Boost Testosterone Naturally with D-POL
Payment & Security
Payment methods
Your payment information is processed securely. We do not store credit card details nor have access to your credit card information.
---
Security