Description
 Gaspari's Proven EAAs™ provide 9 grams of the full spectrum of all essential amino acids, including 6 grams of vegan fermented BCAAs in a scientifically supported Leucine heavy ratio of 4:1 :1, to maximize muscle growth and recovery. Each serving is loaded with Vegan-friendly EAAs in an electrolyte matrix powered by pink Himalayan salt making Gaspari's Proven EAAs ideal for muscle blasting pre, intra or post-workout supplementation.
Highlights
Reduces Muscle Fatigue & Soreness
Activates Muscle Building & Repair
Improves Exercise Recovery Times
Increases Energy & Endurance
Promote nitric oxide levels and vasodilation
Powerful Formula
6g Vegan Fermented BCAAs
3g Essential Amino Acids Blend
600mg Electrolyte Blend
+ Much More
Supplement Facts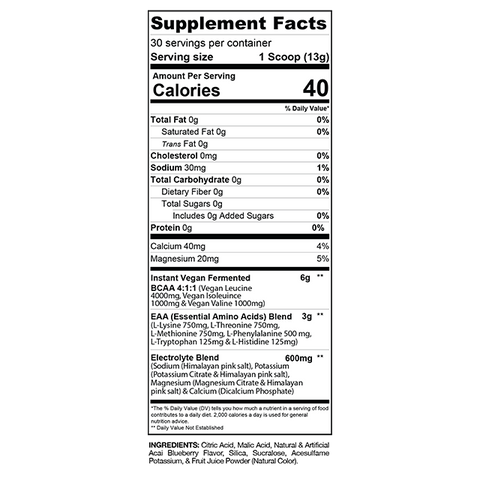 Suggested Use
As a dietary supplement, take 1 scoop of PROVEN EAAs™ before workout with 10oz. of water or juice or as directed by a practitioner.
As with any dietary supplement, consult your healthcare practitioner before using this product, especially if you are pregnant nursing or otherwise under medical supervision.
Payment & Security
Payment methods
Your payment information is processed securely. We do not store credit card details nor have access to your credit card information.
---
Security