Description
Select Protein™ is the pioneering protein of the whey + casein blend, shown to be more effective than 100% whey and uses premium milk protein isolate as the #1 ingredient. With all irresistible flavors developed in-house through our proprietary process, Select will be the first protein that you will actually crave every day. Carb friendly, low in fat and sugar, Select really is the best.
Highlights
Improves skin health
Supports joint & bone health
Increases hair growth exist
Mixes easily with any beverage
Neutral taste
With Vitamin C, an essential Vitamin in collagen synthesis
Powerful Formula
*Amount Per Serving
5g BCAAs
10g EAAs
9g Amino Acids
4.5g Non-Essential Amino Acids
+ Much More
Supplement Facts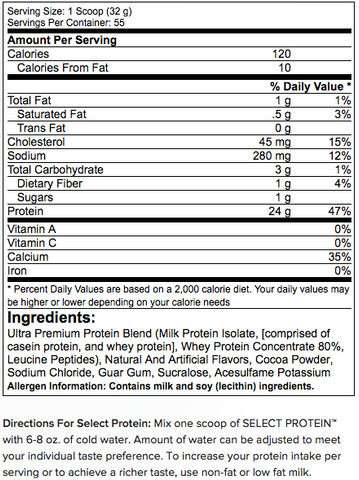 Suggested Use
Mix one scoop of SELECT PROTEIN™ with 6-8 oz. of cold water. Amount of water can be adjusted to meet your individual taste preference. To increase your protein intake per serving or to achieve a richer taste, use non-fat or low fat milk.
Payment & Security
Payment methods
Your payment information is processed securely. We do not store credit card details nor have access to your credit card information.
---
Security