Description
Prolific is the pre-workout powerhouse that covers the full spectrum of the ultimate workout experience, from energy and focus, to performance and pump. Prolific will hit you like the first time, every time, making it the last pre-workout you'll ever need, without ever feeling that tingly itchy skin. Deliciously flavored and mixes easily.
Highlights
Gives long-term muscle pumps
Increased strength and endurance
No "crash" unlike most other products
Patented form of choline for your brain
No creatine - no water retention
NFS certificate
Powerful Formula
*Amount Per Serving
6g L-Citrulline
2.5g Betaine Anhydrous
1.5g Taurine
320mg Caffeine
250mg Citicoline
200mg L-Theanine
100mg Rhodiola Rosea Extract
100mg Coffee Fruit Extract
+ Much More
Supplement Facts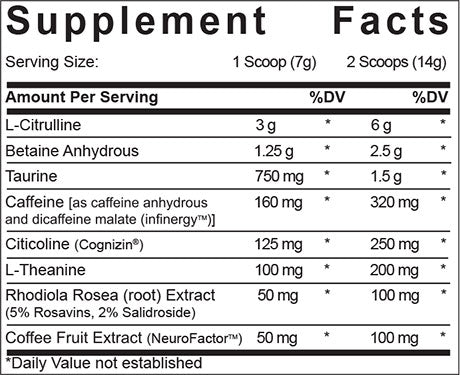 Suggested Use
Start with 1 scoop to determine stimulant tolerance. Mix 1-2 scoops with 8-10 ounces (250-300 mL) of cold water.
Payment & Security
Payment methods
Your payment information is processed securely. We do not store credit card details nor have access to your credit card information.
---
Security