Description
Our perfected blend of Greens & Superfoods features wheatgrass juice, freeze-dried greens such as kale, broccoli, and spinach, plus mushroom extracts like chaga, reishi, turkey tail, agaricus blazei, shiitake, and maitake. You will taste the difference of freeze-dried in every scoop with our smooth, light, natural flavor.
Highlights
Freeze Dried Greens blend
6 Mushroom Extracts
Loaded with Antioxidants
Powerful Formula
*Amount Per Serving
3,000mg Glycine

2,200mg Greens Blend (Wheat Grass Juice Powder (everRAW®), Freeze-Dried Kale Powder, Freeze-Dried Spinach Powder, Freeze-Dried Brussel Sprout Powder, Broccoli Sprout Powder)

600mg Super Mushroom Extract Blend (Agaricus Blazei Mushroom Extract, Reishi Mushroom Extract, Shiitake Mushroom Extract, Turkey Tail Mushroom Extract, Maitake Mushroom Extract, Chaga Mushroom Extract)

100mg SPECTRA™ Total ORAC Antioxidant Blend (Coffee arabica Extract, Green Tea Extract, Broccoli Sprout, Onion Extract, Apple Extract, Quercetin, Acerola Extract, Tomato, Broccoli, Acai, Basil, Cinnamon, Garlic, Oregano, Turmeric, Carrot, Elderberry, Mangosteen, Camu Camu, Blackberry, Blackcurrant Extract, Blueberry Extract, Raspberry, Spinach, Chokeberry, Kale, Sweet Cherry, Bilberry Extract, Brussels Sprout)
Supplement Facts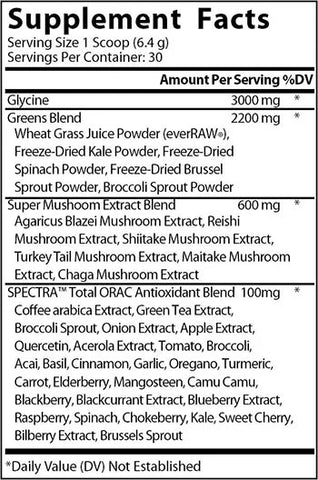 Suggested Use
Mix 1 scoop with 6-8 oz water, juice, or into your favorite smoothie
Payment & Security
Payment methods
Your payment information is processed securely. We do not store credit card details nor have access to your credit card information.
---
Security