Description
Exotic Reds & Blues takes a unique approach in delivering not just "reds", but the powerful "blues and purples" as well, yielding a wide-spectrum of antioxidants. We don't only use common fruits, but instead include many exotic fruits that most people will have a hard time incorporating into their everyday-diet. Reds and blues typically get their color from a class of antioxidants known as anthocyanins and carotenoids, but limited your supplement to just one color of fruit only gives you a fraction of the different antioxidants that exist across multiple colored-fruits
Highlights
Freeze-Dried Maqui Berry - rich in anthocyanins and contains many other bioactive compounds like delphinidin, malvidin, petunidin, cyanidin, coumarins, triterpenes and flavonoids.
Aronia - one of the highest concentrations of antioxidants among fruits in North America, packed with phenols and polyphenols.
Jabuticaba Juice - packed with anthocyanins like its cousin fruits in the deep purple family, and provides a unique antioxidant known as jaboticabin.
Freeze Dried Dragon Fruit - known for its rich color due to its phenols and betalains.
Acerola Juice - from the cherry family, this fruit contains bioflavonoids like kaempferol, quercetin and rutin, along with carotenoids such as lutein and beta-carotene.
Powerful Formula
*Amount Per Serving
2000mg myo-inositol
3000mg Reds & Blues Blend (Freeze-dried strawberry powder, blueberry juice powder, freeze-dried maqui berry powder, MicroDried cranberry powder, freeze-dried pomegranate juice powder, jabuticaba juice powder, MicroDried beet root powder, freeze-dried dragon fruit powder, MicroDried aronia fruit powder, freeze-dried acai powder)
130mg Concentrated Antioxidant Blend
Supplement Facts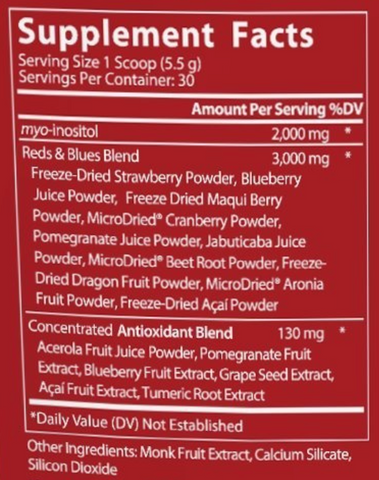 Suggested Use
Mix 1 scoop with 6-8oz water or flavored beverage. Product may clump over time and is normal for freeze-dried fruit powders. Break apart inside the bag before scooping.
Payment & Security
Payment methods
Your payment information is processed securely. We do not store credit card details nor have access to your credit card information.
---
Security