Description
NutraBio Intra Blast is an essential amino acid (EAA) powerhouse that was developed to address the time between pre- and post-workout, commonly referred to as the intra-workout period, when critical nutrients are needed to fuel performance, blunt fatigue, and accelerate recovery. Unlike other intra workouts that contain only branched chain amino acids (BCAAs), Intra Blast contains over 10,000 mg of all 9 essential amino acids, including BCAAs, clinically dosed to work synergistically in order to support muscle protein synthesis, muscle growth, recovery from the most intense training sessions.
Highlights
Supports recovery while you train

Full matrix EAA/BCAA formula
Replenishes and rehydrates

Advanced electrolyte performance matrix
Zero fillers or additives
100% Transparent Label
Powerful Formula
*Amount Per Serving
7200 mg of BCAAs in the scientifically studied 2:1:1 ratio (leucine:isoleucine:valine), shown to support muscle growth and recovery.
2805 mg of six EAAs to support muscle protein synthesis.
2000 mg of betaine anhydrous to support muscular strength and endurance.
1000 mg of L-ornithine Hcl to support exercise performance by reducing ammonia concentrations in the blood thus lessening fatigue of working muscles
2822 mg electrolyte and hydration optimizer that helps support water balance.
Supplement Facts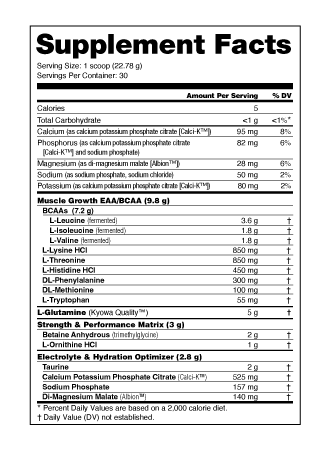 Suggested Use
Mix one scoop of Intra Blast into 12–16 oz. of cold water and sip throughout each training session of the day.
Payment & Security
Payment methods
Your payment information is processed securely. We do not store credit card details nor have access to your credit card information.
---
Security