Description
Alpha EAA is an efficaciously dosed essential amino acid formula that is unlike any other amino acid product out on the market today. Not only does Alpha EAA include a full-spectrum EAA matrix featuring 8.2 g of EAA's and 6 g of fermented BCAA's but we added a focus and hydration complex as well. It's this focus matrix that really puts this product over the top and differentiates it from any amino based supplement available. Our focus matrix is comprised of a combination of the world's most popular adaptogen, Ashwagandha KSM-66 and three of the most effective nootropics around, Alpha-GPC, VitaCholine and Huperzine A. To round out this novel formula and enhance it even more, we included taurine and CocoPure to support hydration and AstraGin to increase amino uptake and absorption.
Alpha EAA is designed to promote all-day focus, recovery and hydration. Alpha EAA supports improved brain function, mental acuity and memory, balances cortisol levels, enhances power output and muscular contractions. So if you're looking for a non-stimulant source of energy, superior hydration and recovery Alpha EAA is the perfect addition to everyone's supplement regimen.
Highlights
Improved brain function
Mental acuity and memory
Balances cortisol levels
Enhances power output and muscular contractions
Vegetarian-friendly, Gluten-free, Non-GMO, Lactose-free
Powerful Formula
*Amount Per Serving
6g of BCAAs in the scientifically studied 2:1:1 ratio (leucine:isoleucine:valine), shown to support muscle growth and recovery.
2200 mg of six EAAs to support muscle protein synthesis.
1700 mg electrolyte and hydration optimizer that helps support water balance.
300mg Ashwagandha KSM-66
+Much More
Supplement Facts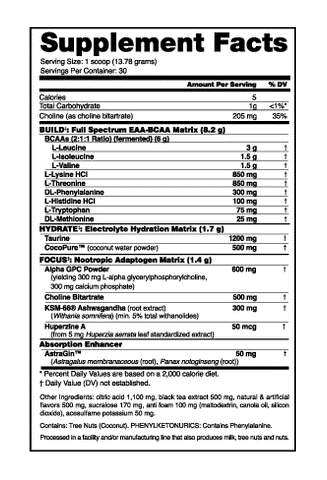 Suggested Use
Mix 1 scoop with 8-10 ounces of water. Consume before, during or after exercise or sip throughout the day as a healthy energy drink substitute.
Payment & Security
Payment methods
Your payment information is processed securely. We do not store credit card details nor have access to your credit card information.
---
Security