Description
Slow metabolism is a result of many aspects including low caloric diets, inactivity and the normal process of aging. By focusing on thyroid activity, Thyrene® uses proven ingredients to increase your metabolic rate, improve energy, and help you achieve your weight loss goals more effectively.
Thyrene has been scientifically engineered to target specific areas that most thermogenic and fat loss products fail to attack. By concentrating on thyroid function, Thyrene uses specific ingredients to help you take charge of your slowing metabolism.
The effects of highly restricted diets, general aspects of aging, and inactivity can wreak havoc on your metabolic rate by reducing the effectiveness of key hormones and enzymes. Thyrene® is designed to improve fat mobilization, increase metabolic activity and provide additional energy all day long. Further, due to its unique ingredient combination, Thyrene can be used along with high stimulant pre-workout drinks, stimulant based thermogenics, other energy drinks making it the perfect addition to any serious weight loss program. Since Thyrene is so powerful, we recommend assessing tolerance by using it initially without any other weight loss products.
Highlights
Supports healthy thyroid function
Optimizes healthy metabolism
Promotes energy production
Support adrenal function
Powerful Formula
*Amount Per Serving
415mg Thyrene® Metabolic Damage Weight Loss Solution Proprietary Blend
20mg Vitamin B3
4.25mg Vitamin B6
100mcg Vitamin B12
400mcg Folate
150mcg Iodine
57mcg Potassium
66mg Calcium
100mg Phosphorus
+ Much More
Supplement Facts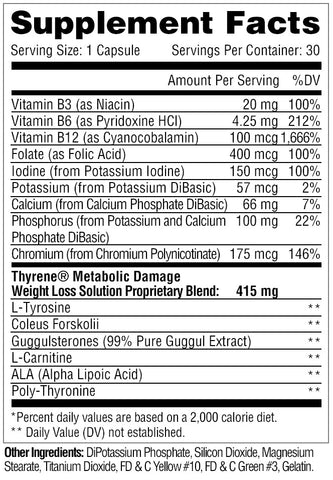 Suggested Use
Due to the strength of Thyrene®, we recommend assessing your tolerance by initially taking only 1 capsule upon awakening for the first 3 days. After assessment, if effects last longer than 15 hours, consider altering dosage to every other day. With caution, you may increase up to 2 capsules in the AM. DO NOT exceed more than 2 capsules daily or 12 hours prior to desired bedtime.
Metabolic Nutrition: Thyrene Review
Payment & Security
Payment methods
Your payment information is processed securely. We do not store credit card details nor have access to your credit card information.
---
Security