Description
Metabolic Nutrition L-Tyrosine is an amino acid that is naturally produced in the body from another amino acid called phenylalanine. L-Tyrosine can also be found in certain foods such as meat, fish, eggs, dairy products, beans, nuts, oats and wheat. L-Tyrosine is a critical amino acid due to its involvement in the production and regulation of Dopamine, Adrenaline, Noradrenaline, Melanin and Thyroid hormones. Because of this, L-Tyrosine has been shown to have medicinal benefits with regards to improving mental performance, alertness, memory enhancement and beneficial with regards to stress, depression and attention/focus issues. Metabolic Nutrition provides a purified, all-natural, highly concentrated dosage of L-Tyrosine for maximum effectiveness & absorption....specifically developed for individuals who want to maximize their health and wellness.  
Highlights
Dopamine support
Improves mental performance
Supports mental alertness
Increases focus
Powerful Formula
*Amount Per Serving
500mg L-Tyrosine
+ Much More
Supplement Facts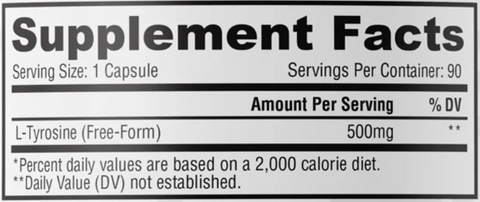 Suggested Use
As a dietary supplement, take 1-3 capsules up to 3x daily.
Payment & Security
Payment methods
Your payment information is processed securely. We do not store credit card details nor have access to your credit card information.
---
Security