Description
KARBOLYN FUEL ensures you are optimizing your glycogen stores before, during and after training. It takes ALL the guesswork out of carb loading.
Highlights
Fast-Absorbing Carb With Complex Carb Sustainability
Glycogen Loading Fuel Source
Sugar-Free, Gluten-Free, Stimulant-Free, Vegan-Friendly
Invented By EFX Sports Scientist Dr. Jeff Golini
Informed Sport Certified, Banned-Substance Free
Manufactured By Us – We Control ALL Production
Perfect Fuel Source: Use before, during and after training
Enhance Athletic Endurance
Intensify Muscle Pumps For Bodybuilders
Maintain High-Intensity Training Levels
Maximize Strength & Power Output
Powerful Formula
*derived from potato, rice, and corn
50g Karbolyn®
200 Calories
50g Total Carbohydrates
Zero Sugar
Zero Fat
+ Much More
Supplement Facts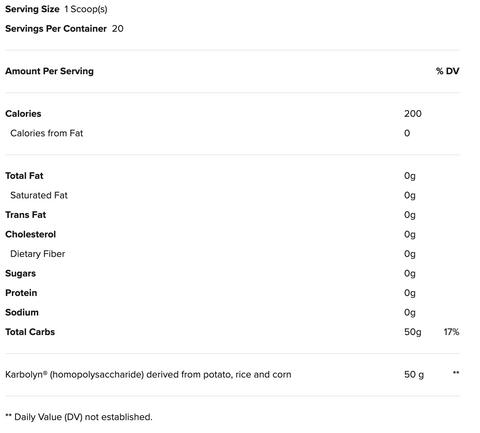 Suggested Use
As a dietary supplement, mix 1 scoop in a shaker cup with 16 ounces of water and drink 30 minutes before exercise.
Payment & Security
Payment methods
Your payment information is processed securely. We do not store credit card details nor have access to your credit card information.
---
Security