Description
Hi-Tech's Quercetin is formulated with a whopping 250mg of Quercetin per serving. Hi-Tech's goal was to overcome the low bioavailability hurdle of Quercetin and Hi-Tech achieved that with the novel delivery system Cyclosome® to boost absorption. Hi-Tech used a more soluble formulation of Quercetin based on phosphatidylcholine and beta cyclodextrin. Quercetin Cyclosome, has recently been developed, and was found to facilitate the attainment of very high plasma levels of Quercetin—up to 20 times more than usually obtained following a dose of Quercetin—when the novel formulation was administered orally in human volunteers. These results suggest that Quercetin Cyclosome allows the oral administration of Quercetin in a safe and bioavailable manner, thus facilitating the effective utilization of this natural compound to help boost natural immunity.

Highlights
100% All Natural & Certified Organic Formula
Promotes cellular health & DNA function
Supports healthy seasonal immune response
Encourages healthy endothelial integrity
Supports already healthy blood glucose levels
Helps maintain already healthy cholesterol levels
Powerful Formula
250mg Quercetin
+ Much More
Supplement Facts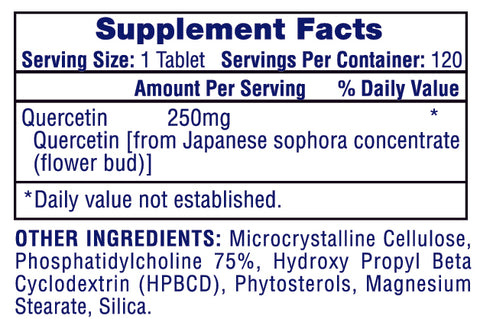 Suggested Use
Use only as directed, Take 1 (one) tablet twice daily with a meal or glass of water. Store in a cool, dry place.
Payment & Security
Payment methods
Your payment information is processed securely. We do not store credit card details nor have access to your credit card information.
---
Security