Description
Hi-Tech Pharmaceuticals are proud to announce the latest breakthrough in Whey Protein supplement technology with its release of Precision Protein™. Featuring innovative and ground breaking Embedded Enzyme Technology™ (EET), this new advancement enhances the release rate and bioavailability of Leucine Peptides for unheard of muscle anabolism and growth. Precision Protein™ takes the most proven muscle builder of all time, protein, and incorporates the most advanced scientific processes to make if more bioavailable, more anabolic, and easier to digest. Your body deserves the BEST protein source possible, which means if you aren't using Precision Protein™, you're not using the best.
Precision Protein™ comes with a never before seen enzyme known as EET™ (Embedded Enzyme Technology) which completely changes the way protein behaves in your body. It works by seeking out specific points in the long amino acid chains that make up the protein itself, and hydrolyzing (or breaking them down) in specific parts to increase the release of Leucine Peptides. By increasing the amount of Leucine Peptides found in whey, the body responds by seeing a significantly larger increase in muscle protein synthesis, mTOR (mechanistic target of rapamycin), and PGC-1a4, all of which lead to faster muscle growth, quicker strength gains, and ultimately better results. Simply put, if you want to gain more muscle and lose more weight, whey is the best option available. If you want to maximize those results to the ultimate degree, the most effective protein possible is Precision Protein with EET™.
Highlights
100% Hydrolyzed Whey Protein For Immediate Amino Acid Absorption
Embedded Enzyme Technology™ (EET) For Increased Leucine Peptide Induced Anabolism
Increased Hypertrophic Growth and Protein Synthesis
Upregulation of the mTOR Signaling Muscle Building Pathway
Enhanced Bioavailability & Uptake of BCAAs and EAAs
Powerful Formula
25g Protein
50mg Cholesterol
2g Total Fat
+ Much More
Supplement Facts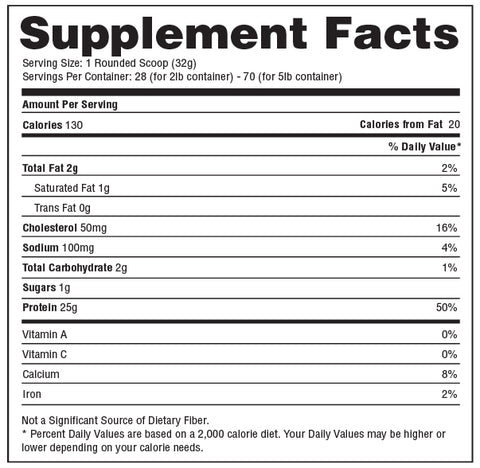 Suggested Use
Mix 1 serving (1 rounded scoop) with 4-8oz (120ml-240ml) of water, milk, or juice in a shaker cup and shake well. For best results mix and drink immediately before and after your workout or whenever you need a powerful dose of protein and anabolic Leucine peptides. For maximum results, take 2-3 servings daily.
Payment & Security
Payment methods
Your payment information is processed securely. We do not store credit card details nor have access to your credit card information.
---
Security