Description
N-acetyl Cysteine (or NAC) is a more stable form of the amino acid L-Cysteine. As a precursor to L-Cysteine, NAC helps the body synthesize Glutathione. NAC possesses powerful antioxidant properties that may help fight cell-damaging free radicals. Studies have shown that oxidative stress caused by free radicals may contribute to premature aging of cells. NAC supports healthy liver function and lung function. NAC supports bronchial and respiratory health. In addition, it encourages a healthy immune cell response.
Highlights
100% All Natural & Certified Organic Formula
Essential for the Production of the Powerful Antioxidant Glutathione
Improves Detoxification of the Liver and Kidneys
Powerful Antioxidant that May Improve Respiratory Function
May Reduce Heart Disease Risk by Preventing Oxidative Damage
Powerful Formula
600mg N-acetyl Cysteine
+ Much More
Supplement Facts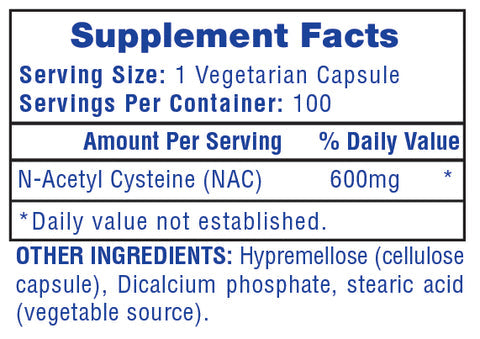 Suggested Use
As a dietary supplement, take one or two veggie capsules per day with water.
Payment & Security
Payment methods
Your payment information is processed securely. We do not store credit card details nor have access to your credit card information.
---
Security