Description
Gaspari AMINOLAST® is the latest advancement in carbohydrate-free BCAA and electrolyte nutrition.  The BCAA's are stacked with electrolytes to ensure complete recovery after grueling training sessions. AMINOLAST® sets itself apart with pure innovation and never-ending taste satisfaction. It also features the latest technological advancement with AmmoJECT™. This huge step forward in recovery helps flush waste products from your bloodstream after intense training to help ensure rapid and maximum recovery.
Highlights
Reduces Muscle Fatigue & Soreness
Activates Muscle Building & Repair
Improves Exercise Recovery Times
Increases Energy & Endurance
 No Artificial Colors, Sugars & Stim Free
Powerful Formula
92mg Calcium
20mg Magnesium
25mg Sodium
2.5g L-Leucine
2g Taurine
2g Leucine Peptides (as PepForm™)
1.25g L-Isoleucine
1.25g L-Valine
1g L-Ornithine L-Aspartate (as AmmoJECT™)
+ Much More
Supplement Facts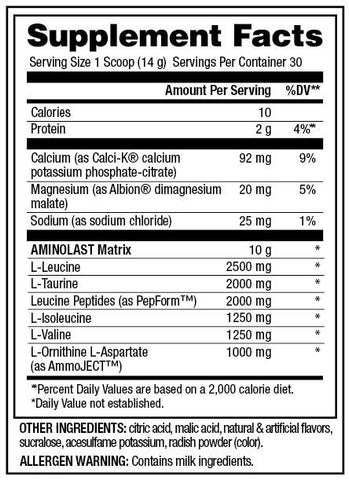 Suggested Use
As a dietary supplement mix 1 level scoop (14 g) of AminoLast with 8 to 10 fluid oz. of water. AminoLast can be consumed before training, between meals, while training, and post-workout to boost your amino acid intake.
Payment & Security
Payment methods
Your payment information is processed securely. We do not store credit card details nor have access to your credit card information.
---
Security