Description
Turmeric is a yellow spice that has been used as a medicinal herb for over 1,000 years. Containing many active compounds called Curuminoids, its most import is Curcumin. Yielding its powerful anti-inflammatory effects, this product is also a strong antioxidant, improves brains function, supports joint health and stimulates the immune system. Metabolic Nutrition provides a purified, all-natural, highly concentrated Tumeric/Curcumin formula combined with Black Pepper Extract for maximum effectiveness & Absorption... specifically developed for individuals who want to maximize their health and wellness.
Highlights
Anti-inflammatory support
Powerful antioxidants
Supports joint health
Stimulates immune system
Powerful Formula
*Amount Per Serving
2315mg Turmeric Curcumin Max Dose
500mg Organic Turmeric Extract
15mg Black Pepper Extract
400mcg Chromium
+ Much More
Supplement Facts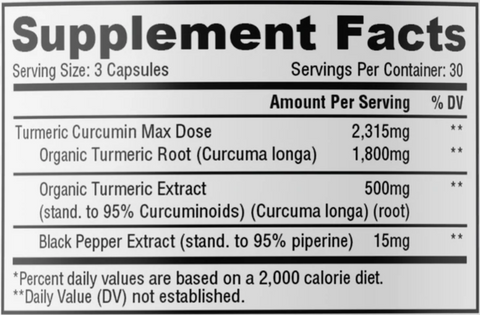 Suggested Use
As a dietary supplement, take one (1) capsule once daily with a meal. 
Payment & Security
Payment methods
Your payment information is processed securely. We do not store credit card details nor have access to your credit card information.
---
Security