Description
T.A.G.®, or Trans Alanyl Glutamine, is the only true Muscle-Targeted Glutamine. Due to its unique di-peptide bond, T.A.G. creates a jacket to protect glutamine all the way through to the muscle. T.A.G. is an ideal solution for muscle repair, reducing muscle tissue degradation, and enhancing recovery.
Glutamine has been a staple for athletes and fitness enthusiasts for benefits to muscle recovery and glutamine's impact on the body's immune system as a whole. While glutamine has many advantages to helping improve performance and health, it is often under-utilized in supplement programs due to poor absorption kinetics. However, T.A.G. has been scientifically engineered to deliver the full dose of glutamine necessary due to its unique bonding with alanine. Enhanced absorption means real results, and with enhanced recovery, you can go longer and stronger than ever before.
Highlights
Superior to free form L-Glutamine
Dramatically increase muscle repair
Inhibits muscle fatigue and soreness
Prevents muscle loss during exercises
Improves immune system and overall health
Powerful Formula
*Amount Per Serving
10g Trans-Alanyl-Glutamine, L-Alanyl-L-Glutamine (Sustamine®)
+ Much More
Supplement Facts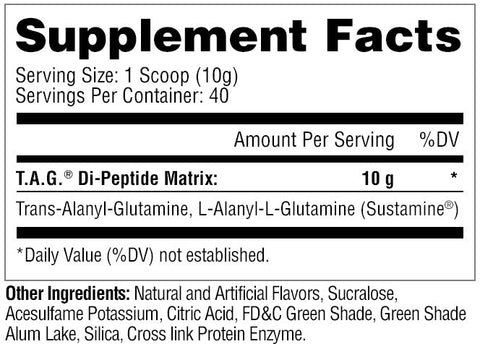 Suggested Use
As a dietary supplement, take 1 scoop with 6-10 oz of cold water, juice, or protein shake.
Metabolic Nutrition: T.A.G. Review
Payment & Security
Payment methods
Your payment information is processed securely. We do not store credit card details nor have access to your credit card information.
---
Security