Description
If you're looking to lose body fat, it comes down to burning calories, and we all know that this is no easy task. They're burned as a result of raising your core temperature, training hard and of course dieting to burn more calories than you're consuming. A daunting task, it only makes matters worse when you are hit with that dreaded 'diet brain fog'. Metabolic Nutrition is proud to announce StimuLean®, the all in one solution for thermogenesis (raising core body temperature), craving control and long-lasting, 'feel good' energy. Unlike some of the 'other fat burners' out there, were the effects dwindle after you've used the product for a short period. StimuLean tackles that problem head-on with our adenosine & dopamine signaling components designed to optimize your body's response and keep the fat burning consistent day after day.
Highlights
Increase core temperature for maximum calorie burn
Long-lasting, "Feel Good" clean energy & focus
Suppress appetite & cravings
Target burning of stubborn body fat
Powerful Formula
*Amount Per Serving
20mg Niacin (Vitamin B3)
4.25mg Vitamin B6
100mcg Vitamin B12
400mcg Chromium
568mg 1,3,7-Trimenthylxanthine (caffeine anhydrous), Theacrine, Citrus Aurantium, Coleus aurantium, Coleus Forskohlii Extract, Aframomum Melegueta, Capsicum Extract, Black Pepper Extract, Yohimbe HCL, Huperzine A
+ Much More
Supplement Facts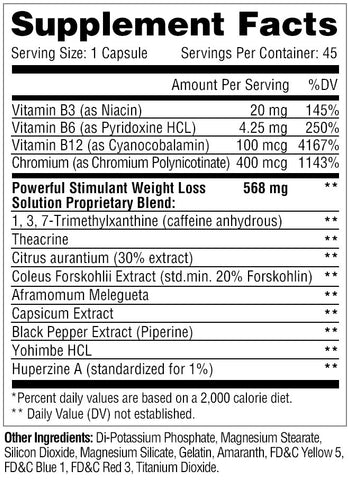 Suggested Use
Due to the strength of StimuLean, we recommend assessing tolerance by using it initially without any other weight loss or energy enhancing products. Do not use more than two capsules daily and do not take StimuLean in the evening.
Payment & Security
Payment methods
Your payment information is processed securely. We do not store credit card details nor have access to your credit card information.
---
Security